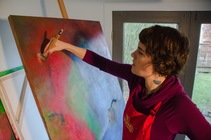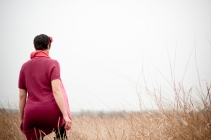 I fell in love with painting in high school. My art teachers were incredible, allowing me to paint big, and entering my work into juried exhibitions. I went on to study art at Indiana University, and graduated with BAs in both East Asian Studies and Psychology, which fed my other major interest: holistic health. After college, I ventured abroad to teach English in Japan, volunteered on organic farms in New Zealand and Europe, and explored art, healing, and food of several more Asian countries. I moved to Portland in 2000, taught private Pilates and incorporated hands on energy work into my signature holistic training sessions. In 2010, I retired from pilates instruction and my work became exclusively assisting women to connect to their spiritual power through their bodies and creativity. Becoming a mother in 2004 propelled me back into painting, and catalyzed the most recent series of spacious land and sea scapes. This past year I've focused more on site specific commissions. I work with interior decorators, designers, and lovers of art.
and here's my CV:
KATIE TODD
Lives and works in Portland, OR
ARTIST STATEMENT
My painting is a means to create a sense of physical space, both for myself and
for the observers of my work. The motif of unbroken horizon has occupied a
strong, almost universal place in my canvases. They are a memory of place. Thin layers of color are applied to canvas to create depth and translucence in the imagined landscape. My horizons are inspired by the flat planes of the Midwest, and by the vast Oregon coast. I strive to create paintings that people can develop a relationship with in their daily lives.
SOLO EXHIBITIONS
2017
Eastbank Exchange Building, Portland OR
2013
Stonehenge Gallery, Portland OR
2012
Paintings, Luke's Frame Shop, Portland, OR
2010
New Paintings, J & J Gallery, Toledo, OH
First Thursday at The Wyatt, Portland, OR
Souchi, Portland, OR
Seven Virtues, Portland, OR
2009
Space for Hope, NW Cancer Specialists, Portland, OR
Café Pallino, Portland, OR
Posies Café, Portland, OR
2008
Spring Spaces, Tilde Shop, Portland, OR
SubRosa, Portland, OR
SELECTED GROUP EXHIBITIONS
2016
SE Art Walk, Portland, OR
Siren Nation NW Women's Art Exhibition, Portland, OR
2015
SE Art Walk, Portland, OR
Siren Nation NW Women's Art Exhibition, Portland, OR
2014
SE Art Walk, Portland, OR
Siren Nation NW Women's Art Exhibition, Portland, OR
2013
SE Art Walk, Portland, OR
Siren Nation NW Women's Art Exhibition, Portland, OR
2012
Siren Nation NW Women's Art Exhibition, Portland, OR
SE Art Walk, Portland, OR
2011
Siren Nation NW Women's Art Exhibition, Portland, OR
SE Art Walk, Portland, OR
Street of Dreams, Tigard, OR
2010
Lay of the Land, Regional Invitational Exhibition, Camus Gallery, Salem, OR
Awakenings, Group Show, Portland,OR
SE Art Walk, Portland
2009
Prints for PICA, Portland, OR
Café Pallino, Portland
2008
Art for Women, C.S. Eberly Center, The University of Toledo
Journeys / Waysides / Passages, The Kingstad Gallery, Beaverton, OR
2007
Opening Spaces, Mother-daughter show, EcoPdx, Portland
PUBLIC WORK
2013
Northwest Housing Alternatives, Hollyfield Village Apartments. Lake Oswego, OR
2011
Center For Evidence Based Policy at Oregon Health Science University, Portland
2010
Shriner's Hospital for Children, Portland, OR
Street of Dreams- Showcase of Luxury Custom Built and Designed Homes, Tualitin, OR
COMMISIONS
2017
Private Residence, Lake Oswego, OR
2016
Private Residence, NE Portland OR
2012
Coyle Funeral Home, Toledo, OH
Private Residence, SE Portland, OR
Private Residence, SW Portland OR
2011
Private Residence, SE Portland OR
2010
Shriner's Hospital for Children, Portland, OR
Private Residence, SW Portland, OR
Private Residence, Milwaukee, OR
2009
Private Residence, Raleigh Hills, OR
Interior Designer commission, Lake Oswego, OR
Heidi McBride Art Consultancy commission for private residence, Vancouver, WA
Private Residence commission, Manzanita, OR
2008
Private Offices, Eugene, OR
Private Residence, Toledo, OH
Private Offices, Perrysburg, OH
BIBLIOGRAPHY
2016 Clackamas Literary Review- Art featured on the Front Cover
2015 Voice Catcher - featured Artist
2010
SimplyLovely Blog feature, http://simplelovely.blogspot.com/2010/05/loving_11.html
Souchi's designer Suzi's personal blog, http://suzisouchi.blogspot.com/
2009
Diane Keaton Interiors, dianekeatoninteriors.blogspot.com, (March 1)
2008
MotherSource Press http://www.mothersource.org/stories/item/189
2007
Oregon Home Magazine, featured Portfolio Artist, (Sept/Oct issue) pp. 32
REPRESENTATION
The Heidi McBride Art Consultancy, Portland, OR
Art Etc., Portland, OR
Camas Gallery, Salem, OR
Hudson Gallery, Sylvania, OH
EDUCATION
Phi Beta Kappa Graduate of Indiana University, Bloomington, IN
ONLINE PORTFOLIO
www.KatieToddArt.com
CONTACT
Katie@KatieToddArt.com
503-239-6041